Basic Reference
Qualifying Competition Progression
Qualifying Competitions in the USFSA include Regionals, Sectionals, and Nationals.
Qualifying events at each Regional range from Juvenile through Senior in singles and from Novice through Senior in Dance and Pairs. The top 4 competitors in each division advance to Sectionals. The top 4 competitors from each division at Sectionals advance to Nationals. Juvenile and Intermediate Pairs and Dance skaters enter directly into their appropriate Sectional event, then the top 4 move on to Nationals.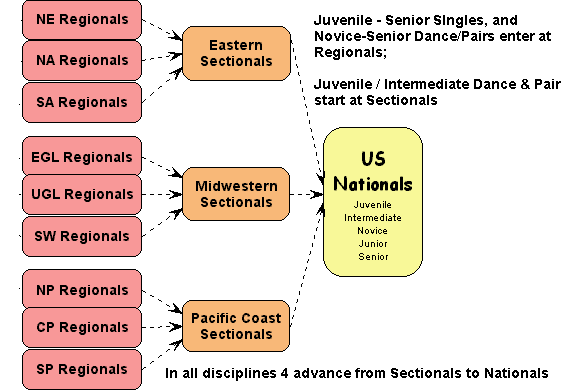 All original content Copyright © 1999-2016 by Korte Web Services, LLC. Permission is granted for clubs and rinks to reproduce for instructional or non-profit purposes, with attribution. This site is produced privately as a service to skaters and is not endorsed by US Figure Skating or other organizations. The United States Figure Skating Rulebook is the official guide to rules and requirements. Images may not be republished or used for any commercial purposes.