Grace Elements - Ina Bauer
The Ina Bauer is similar in some ways to a spread eagle, but when performing a Bauer, the skater's feet do not describe a single straight tracing on the ice. The blades are parallel, but are offset by 10-24 inches, such that 2 parallel lines are drawn on the ice. The back foot is always on an inside edge. The front foot may be on either edge, or the flat - the skater's path will curve in different directions or go straight, depending on the front edge.
Sometimes the skater arches over backwards into a pretty position.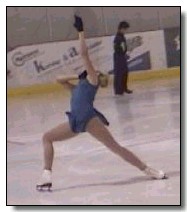 Jessica Saban / SC of Novi
(click image to see video)