Grace Elements - Lunge
To do a lunge, the skater bends the skating knee and extends the freeleg "behind" her body. The freeleg is straight, and the boot of the skate drags on the ice. The skater's body is in an upright position, and the arms are usually extended artistically.
Lunges are performed both forward and backward. They may be performed on either foot. When you do a back lunge it is very important to not let the blade catch on the ice!
In some higher-level programs, the skaters will do a really great move in which they start on a forward lunge, then while staying in position they perform a 3-turn and transition to a back lunge.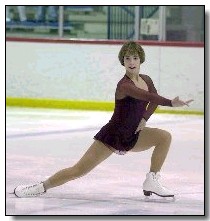 Lisa Dannemiller / Ann Arbor FSC