Small Jumps - Ballet Jump
The Ballet Jump is a half-revolution jump starting on an RBO edge. The skater faces OUTSIDE of the circle while gliding backwards. When ready to jump, the skater picks with the left toe and leaps up off the right leg. The skater executes a half-rotation, then lands forward on the left toe pick (the same foot that tapped). Following the brief stabilizing tap with the left toe pick, the skater lands and glides out on an RFI edge.
While in the air, the free leg is extended and turned out behind the skater while the head faces forward.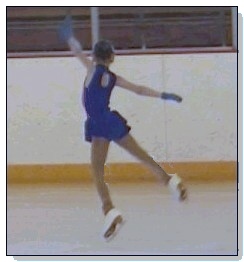 Gabrielle Czarny / Wyandotte FSC
Click image to see video
or click here to see Slow-Motion version