Small Jumps - Bunny Hop
The Bunny Hop is usually taught as one of the first jumps. It is a "no-rotation" jump. While gliding on a forward edge (either foot, although most skaters seem to be more comfortable gliding on the left foot), swing the free leg backwards, then forwards. When it passes the skating leg, the skater springs a little bit off the skating foot and hops into the air, while continuing the forward swing of the freeleg. The skater comes down (lands) initially on the toe pick of the swung leg, then quickly after that lands on and transfers the glide to the jumping foot.
There's also a jump called a Double Bunny Hop. Its not often used -- or at least its not often named. In fact, I remember judging a competition once several years ago where a Double Bunny Hop was listed as a required element in a Basic Skills level compulsory moves event. Neither I nor any of the other judges on the panel had ever heard of a Double Bunny Hop. We had to have one of the pros demonstrate it for us, so that we knew what to look for (interestingly enough, all the kids seemed to know how to do it...). I don't recall what it looks like (its NOT just 2 bunny hops in a row) -- if anyone knows, and can send me a video clip and/or a description, it'll probably show up here with my thanks...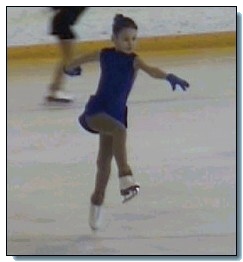 Gabrielle Czarny / Wyandotte FSC
(click image to see video)